Documenting Your Beautiful Life
"As a photographer, I understand that most people aren't used to being photographed and don't always know what to do when that lens is pointed their way. That is why I always go out of my way to first help you and your guests to feel comfortable – something that then leads to the images you will no doubt enjoy the most. For those truly paralyzed by the camera, portrait sessions BEFORE the wedding can really help to work through those issues."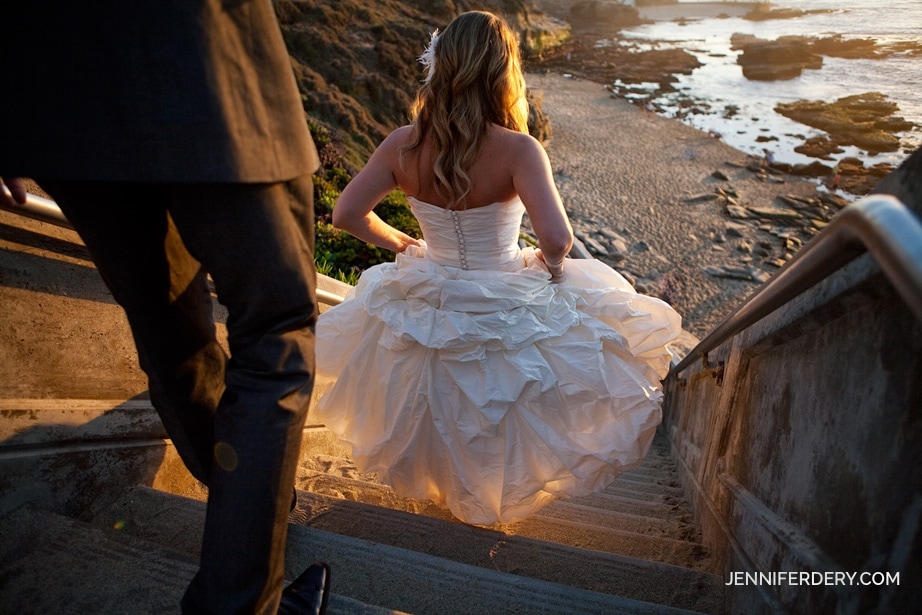 ph 619.246.7739  |  email  |  inquiry form
San Diego Wedding Photographer, Jennifer Dery: I'm a great storyteller, a pretty decent cook and an intrepid traveler.
I live my life with intention, trying to always surround myself with positive, healthy people and striving to make each day count. I am pretty laid-back and easy going, but I can be very picky about the details when it comes to things I really care about. Like your wedding photos. At times I can be a mirror of others' emotions. This transfer of emotion makes for great photography, capturing the moment within moments, but doesn't always make for the best roommate. At times I'm just silly and (I think) funny – you'll have to judge for yourself.
Wedding photography is a funny thing; it has as much to do with personality and personal relationships as with artistic talent. In fact, it is often relationships and personality which define great wedding photography, not simply stellar image-creation skills (which should be a given).
To describe the brides and grooms that hire me is to describe myself: you are relaxed and easy-going while still caring deeply about details and the experience. You look forward to spending time with close friends and family, and you love to share your great discoveries. An impromptu party is never too far off, and you embrace opportunities for fun and adventure.
Most of the brides and grooms who hire me are people I could easily see myself being friends with. We have a likeness in humor, style and vision that makes us a great match and translates to truly personal and unique photography.
As a photographer, I understand that most people aren't used to being photographed and don't always know what to do when that lens is pointed their way. That is why I always go out of my way to first help you and your guests to feel comfortable – something that then leads to the images you will no doubt enjoy the most. For those truly paralyzed by the camera, portrait sessions BEFORE the wedding can really help to work through those issues.
The wedding day is a time to celebrate, which should mean relaxing and enjoying the moment. I prefer to take photos that capture the day as it really looked, and as such – I avoid forcing brides and grooms to spend hours on posed photos. The family group images, of course, have to happen. But they don't need to take you away from your celebration for long. I strive for images that capture the essence of your friends and family and how they relate together, not just their "photo faces."
My style of photography is often called journalistic, but for me it is simply organic. Capturing those completely natural moments as they are happening – especially the moments between the moments – are all part of the art to me. The simple, subtle, warm and emotional occurrences within the wedding itself are what count the most. It is about photographing the real wedding, without any cheesy or fake attempts inserted.
My photography style can be described as emotional and journalistic with an eye for humor and detail. An Artisan wedding combines two things: the artistry of my photography with the creation one of a kind hand-made albums and prints. I am an artist for you behind the camera and an artisan when it comes to producing your high-quality albums and gorgeous framed fine art prints. This is not a combo often found in the same person.
I will capture both the obvious and the subtle details for you. I want to tell the story of what you have been planning to express to the world for the last year.
I have great timing because of my experience and intuition for the unexpected. I get a distinct and unexplainable "feeling" for when special moments are about to occur, knowing just when to push the shutter and have it framed in an artistic and flattering way. That experience, skill, and gut instinct for finding the perfect moment is exactly what leads to the pictures you will cherish for a lifetime.
As time goes on and new people enter your lives, I hope you will share your wedding album with them. Your album should give them get a real sense of what it was like to be at your wedding, not just faces of guests, but the real ambiance, emotion, fun and love.
So much is happening on your wedding day, the memories don't actually start to unfold until you begin reliving the event in the relaxed months after. My goal is to capture the entirety of the event, so that the significance of this great experience – this milestone – is not only preserved, but can grow as time goes on.
After the thank you's have been sent, the dress preserved and your wedding album placed on the coffee table the next phase of your life begins. If it happens to include babies, you must come back so I can photograph them! You can view my KIDS PHOTOGRAPHY and bookmark the page for future use or to send to your friends. All past couples receive a special gift from me upon their return with their new bundle of joy!
How do you book? I have a whole page devoted to answering your questions right HERE.